It's not everyday that I'm asked to be on a panel at Google that GEENA DAVIS is hosting, especially when that panel has everything to do with the work that I'm doing at Scirens! Thanks to Annie Tedesco, the talented actress and star of GRANITE FLATS, I was invited to join Geena Davis' Institute for Gender in Media panel: 'Women Pioneers in a Galaxy Far Far Away — How can media encourage women to pursue careers in science?' YES! This is one of our long term goals at Scirens: to create mainstream entertainment infused with science story lines and multi-dimensional characters with STEM (Science Technology Engineering Math) careers.  We eagerly align with GDIGM's belief "If she can see it, she can be it".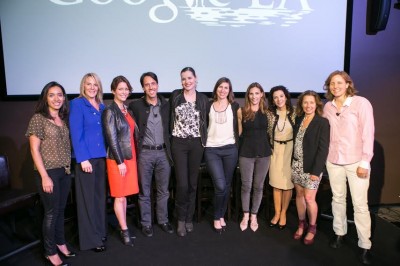 For those of you who don't know the work that GDIGM is doing, it was formed by Ms. Davis after she noticed the lack of female characters in her children's family entertainment… cut to today, the Institute has commissioned over 12 research studies that reveal 'decisive evidence of gender inequality and rampant stereotyping in film and television…' even in family entertainment. I strongly suggest that you dive into the reports — the data it is staggering. An example: 'From 2006 to 2009, not one female character was depicted in G-rated family films in the field of medical science, as a business leader, in law, or politics. In these films, 80.5% of all working characters are male and 19.5% are female, which is a contrast to real world statistics, where women comprise 50% of the workforce.'  
Ms. Davis uses her public position to share this data with Hollywood executives to push for change. She also started hosting membership driven 'Salons' where these topics could be discussed in a panel format in front of an audience. And that's where I came in! I was lucky enough to join Andrea Fernandez of Goldieblox, cardiothoracic surgeon Dr. Kathy Magliato, writer/ show runner Jaime Paglia, Amazon studios exec Christina Reynolds, 'Person of Interest' writer Amanda Segal, and Laura Tenebaum of JPL/ NASA. And our moderator was Megan Smith of Google X labs. Yes — such an inspiring group.
The discussion was a fascinating one — how do we use our place in Hollywood and media to push forth more female characters with STEM careers? It sounds simple but it's not. Our discussion revealed the continued difficulty of being a female within the traditional framework of both Hollywood and NASA/Medicine — it's still (mostly) an 'old boys club', but our discussion also pointed out how the emergence of strong new media platforms is opening doors to tell new stories. We screened the trailer for the new Amazon children series called ANNEDROIDS and it blew me away with its science elements and stereotype breaking characters. If ANNEDROIDS is any example of what future programming can be, the future is bright. (And a big thank you to Madeline di Nonno and Elizabeth Kilpatrick of GDIGM for organizing the event).
I aim to write a longer blog post on Operation BABE/ All Things T to examine this topic, but in the meantime, head over to the GDIGM site and check out all the fantastic things they are doing… AND… pay attention to the gender (and ethnic) landscape of the entertainment you are watching. You'll be surprised what you see.